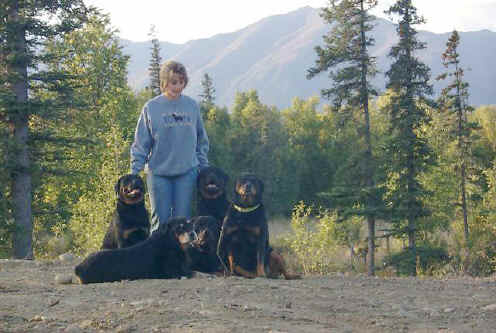 Welcome to Aspengold Rottweilers! We are located right outside of beautiful Hatchers Pass in Palmer, Alaska. Our house is surrounded with woods and all sorts of fascinating creatures. Wildlife is very abundant here.
My first Rottweiler came to me in 1989. She was my educational dog. Everything that I could have done wrong, I did. But, by her being my learning tool, I knew what to do with my next Rottweiler. He came to be in my life in 1990. He was my first show Rottweiler and thatís where it started.
Since then I have only bred 5 litters. I believe in quality and not quantity. This breed is true to my heart and I am a firm believer in ALL health clearances and temperament.
The AKC breed standard for the Rottweiler calls for a compact and substantial build denoting great strength, agility and endurance. It was this description that first drew me to the breed. However, it is their intelligence and loyal and affectionate nature that has won my heart and made me a devoted fan.
My goal is to promote responsible ownership of the breed, to protect and preserve its reputation, and to ensure the quality of the breed through correct structure, health and temperament.
Please feel free to look around my website and visit often.
You can find information and news on the Aspengold News page and visit the Aspengold dogs on the "My Dogs" page. The Rainbow Bridge page honors our dogs that have passed away. Also, check out the All Breed Handling and Litters pages for more information. We hope you enjoy the time spent here ...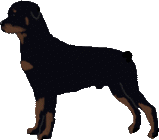 Please visit again soon,
Laura Tankersley